Infused By
Mother Nature
Not Some Factory
Health is
Wealth.
And We're
Mineral Rich.
The overflowing benefits of
mineral water
Water is essential to life. And minerals are essential to health. Combine the two, and you've got a potent concoction for goodness. Mineral water benefits your brain, heart, muscles, and bones. Crazy Water's minerals come straight from the earth, which makes them easier to absorb than man-made minerals.
Visit Us In
Mineral Wells
Crazy Source
There's something in the water in Mineral Wells, Texas, and we want you to come experience it for your crazy selves!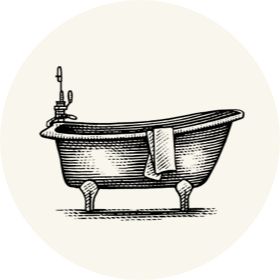 Bath House & Spa
The Crazy Water Bath House & Spa offers mineral baths and treatments inspired by nature and our water.
Coffee & Water Bar
Enjoy the classics – like lattes, teas, and sodas – but with a secret crazy ingredient you'll never guess!
WHAT OUR FANS SAY
"I discovered Crazy Water a few years ago when I was playing for the Dallas Stars. I love the health benefits and the way it kept me hydrated during training and after games."
– Mike Modano
U.S. Hockey Legend
WHAT OUR FANS SAY
"Being in the heat all summer long has given me the opportunity to experiment with different brands of water over the years, and I feel like the minerals in Crazy Water really help replenish what I lose on the field."
– C.J. Wilson
Former Texas Rangers Baseball Pitcher
WHAT OUR FANS SAY
"We all deserve not only pure water, but mineral-dense water – that's Crazy Water."
– Brian Johnson
Owner of The Movement Standard
WHAT OUR FANS SAY
"Water is something that everyone has to drink every day, so why not drink the best? And I believe Crazy Water is the absolute best. It's naturally infused by the earth. I'm all about that."
– Juliann Faucette Johnson
Professional Volleyball Player
WHAT OUR FANS SAY
"At Indigo Yoga, our classes are practiced in a 100-degree room with very high humidity. Dehydration is always a factor, so we encourage our students to drink Crazy Water to improve their yoga practice and overall health. And they love it!"
– Brooke
Owner of Indigo Yoga